Our one-day Kilimanjaro tour gives you the chance to trek to the first stage of the legendary Marangu Route, through a rainforest teeming with wildlife and chattering, curious blue monkeys. Be on the lookout for a black and white colobus monkey or two!
Mount Kilimanjaro is Tanzania's most awe-inspiring landmark, but you don't have to climb it to appreciate its full splendor and the intriguing landscape that surrounds it.
1 Day Hike to Mandara Hut on Mount Kilimanjaro
The 1 day hike to Kilimanjaro's Mandara Hut, the first accommodation point along the Marangu route begins with an early morning breakfast at your hotel or lodge in Moshi or Arusha but preferably in Moshi since it is the nearest town to Mount Kilimanjaro. We drive for 1 hour to the Marangu Gate at an elevation of  1860 m where all the paperwork and registration are processed before we begin our day hike on the mountain. Marangu Gate is located in the dense forested and wet region of the rainforest. traversing the impressive vegetation, you will have the chance to see the resident black and white colobus monkeys, blue monkeys, and a variety of bird species. Our knowledgeable mountain guide will share their knowledge of Mount Kilimanjaro and its environs while pointing out the different species of plants and animals of the mountain.
Distance from Marangu gate to Mandara Hut
The hike from the Entrance Gate, the Marangu gate (1860 m) to Mandara Hut (2700 m) takes a duration of 3-4 hours trekking on foot and it is about 8km long. On reaching the Mandara Hut you will explore the surrounding features by hiking for another 15 minutes to the Maundi crater where you will be rewarded by stunning views of the Mountain and the lovely terrain below.
Descending from Mandara Hut back to the exit gate, the Marangu gate
After you have had your lunch, relaxed, and enjoyed the views, you will have to get back to the Marangu gate and ultimately to Moshi or Arusha. Descending from Mandara Hut Camp to the Marangu gate takes about 2-3 hours on foot. Once you reach the Marangu gate, your vehicle will be waiting for you whereby you will embark on your journey back to Moshi town or Arusha City.
Climbing Kilimanjaro in one day?
Although you won't be able to climb Kilimanjaro in a single day, our day excursion to this iconic, snow-capped mountain will give you a good idea of why Africa's tallest peak is so popular. During the day, we'll trek the popular Marangu Route as far as the first hut, the Mandara, where we'll have a picnic lunch. While the rest of the hikers continue uphill toward the summit, we will descend and return to Arusha.
Marangu Route Day Trip
Marangu is a village on the foot slopes of Mount Kilimanjaro, you can take a one-day trip to the mountain using the Marangu Route or alternatively, you can opt for a day trip to Marangu Village and experience Chagga cultural tours, enjoy a dip at the Marangu Waterfalls, learn how to make coffee the local way and visit the Chagga Caves at Marangu Village.
Short Hike to Mount Kilimanjaro from Moshi or Arusha
You can take this short hike from Moshi, the nearest town to Mount Kilimanjaro, or Arusha, a city not far away from Kilimanjaro, and the nearest town to Mount Meru, which is only 2 hours away with a distance of about 87 km apart. To take this short Mount Kilimanjaro hike from Arusha though, you will have to begin your journey earlier in order to make it just in time for your day trip that will begin at 8.00 am.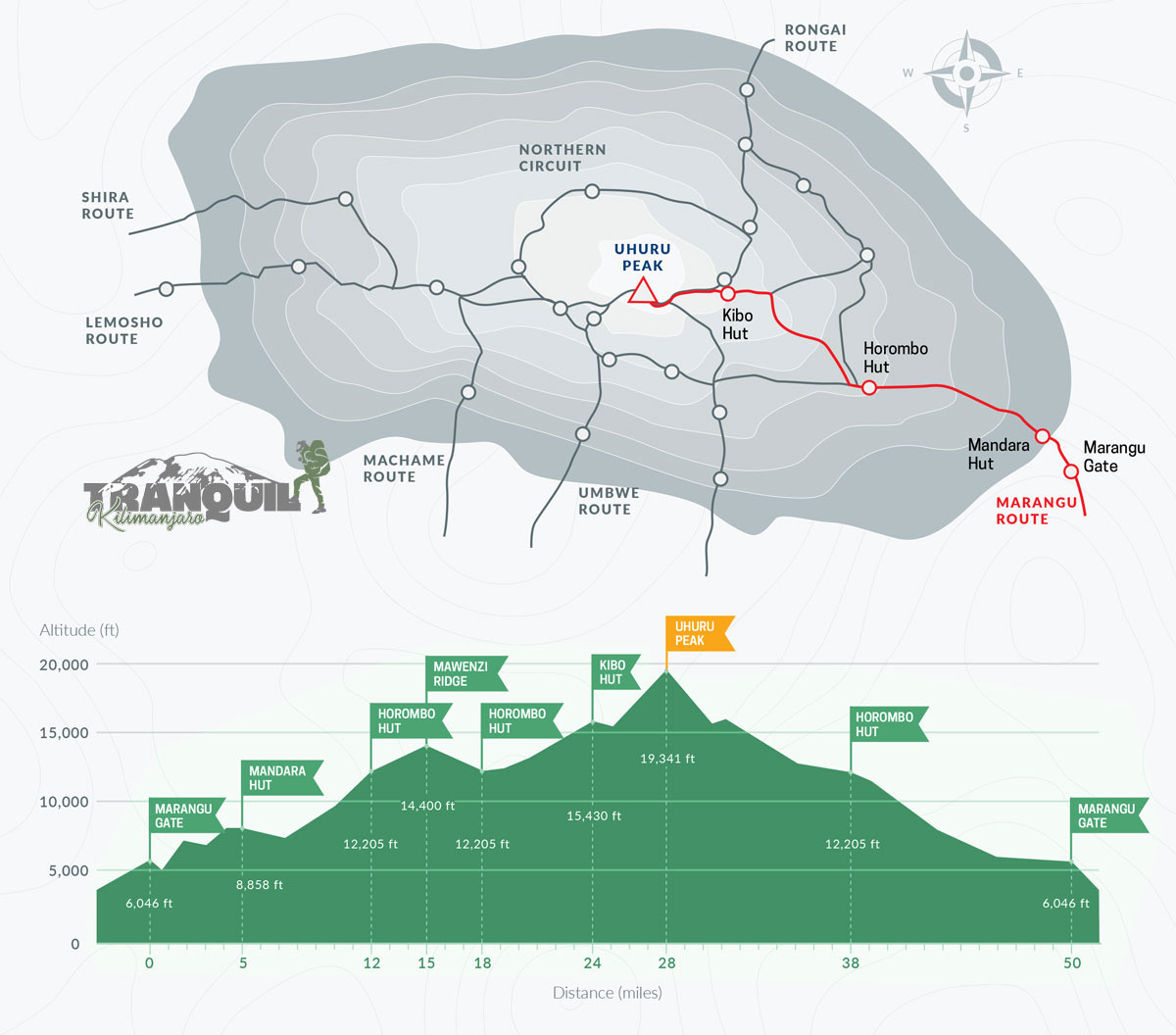 Start time:  8.00am
Duration of excursion: Full day
Meals included: Packed lunch. Bottled water.
Maximum size of group: Private group
What to wear:  Closed shoes are recommended because the walk can be over uneven ground. Due to the altitude, warm clothing and/or waterproofs are also advisable.