Should you tip porters and guides on Kilimanjaro?
Tipping on Mount Kilimanjaro does not have a clear-cut and straightforward answer, it is a way of generosity that does not necessarily have a price tag on it even though there is a recommended amount for the different roles played by your mountain crew.
However, it is standard procedure for mountain climbers to give out tips, which is not part of your climbing package.
When should you give out tip money?
Since time immemorial, tips are usually given after the overall climb on Mount Kilimanjaro, as a way of thanking your crew for being with you and taking care of you during the thick and thin of your adventure.
Is it a must to give out tips
You are not forced to give out tips as such but courtesy calls that to reciprocate the hard work put in by your crew and bond that you have created over the course of your trekking journey, a tip is like a bonus reward given to the porters and mountain crew for giving you attentive service for the crew that earns an honest living out of putting in the hard work and dedication to see you through your goal of climbing the mountain and also to give your crew the morale boost despite the poor wages they receive. In short, it is obligatory rather than mandatory. In other words, it is like a tradition borrowed from the American spirit.
How much money should you give out as tips on Kilimanjaro?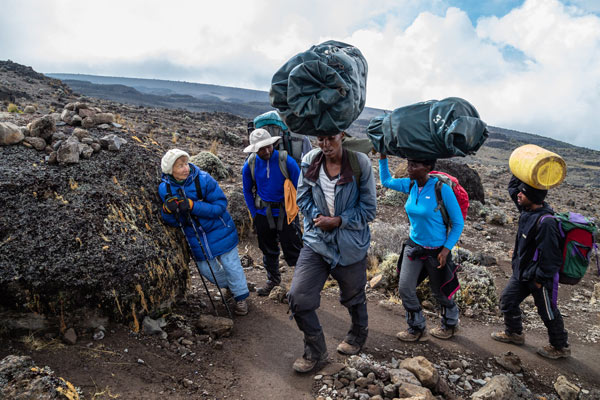 Even though there is no limitation on how much you should give as tips, it should always come from your heart, from within and how much you appreciate, there is a guideline as to how much should be the average, recommended amount of money to tip.
One way of tipping that most climbers use is to contribute at least 10% of your total trip cost towards tipping. If for example, you paid US$2000 for your climb, you should contribute 10% of the $2000 which comes to around US$200 into the tipping kitty. (If there are only one or two of you, it would be better to pay slightly more than 10%. So that it can be worth something enough to thank your mountain crew)
Another method that is currently put in practice is where each member of the mountain crew receives a set amount, from US$20 to each of the porters to US$40-50 to the assistant guides, and US$60-70 to the guides; or a per diem amount such as US$5 per porter per day, US$7 for the assistant guide, US$10 for the guide and so on. These are just examples to give you a picture of how tipping is conducted, but you have the freedom to use your own way of showing your gratitude.
So a rough guide to tipping guides and porters for your entire mount Kilimanjaro climb would be:
US$20 to each of the porters
US$40-50 to the assistant guides
US$60-70 to the guides
Or if you are tipping guides and porters by the day:
US$5 per porter
US$7 for the assistant guide
US$10 for the guide
For transparency among the mountain crew, it is advisable to collect all your tip and hand them individually to the deserving crew members rather than putting someone in charge of distributing the tips.