Experience a one-day trip to Mount Kilimanjaro's Shira Plateau. Climbing Mount Kilimanjaro is a challenge that many would love to take on. Even though you are not able to reach the top of this snow-capped giant of a mountain, a one-day hike can be made possible just to get a flavour of it.
Start time:  8.00am
Duration of excursion: Full day
Meals included: Packed lunch. Bottled water.
Maximum size of group: Private group
What to wear for this Kilimanjaro day hike:  Closed shoes are recommended because the walk can be over uneven ground. Due to the altitude, warm clothing and/or waterproofs are also advisable.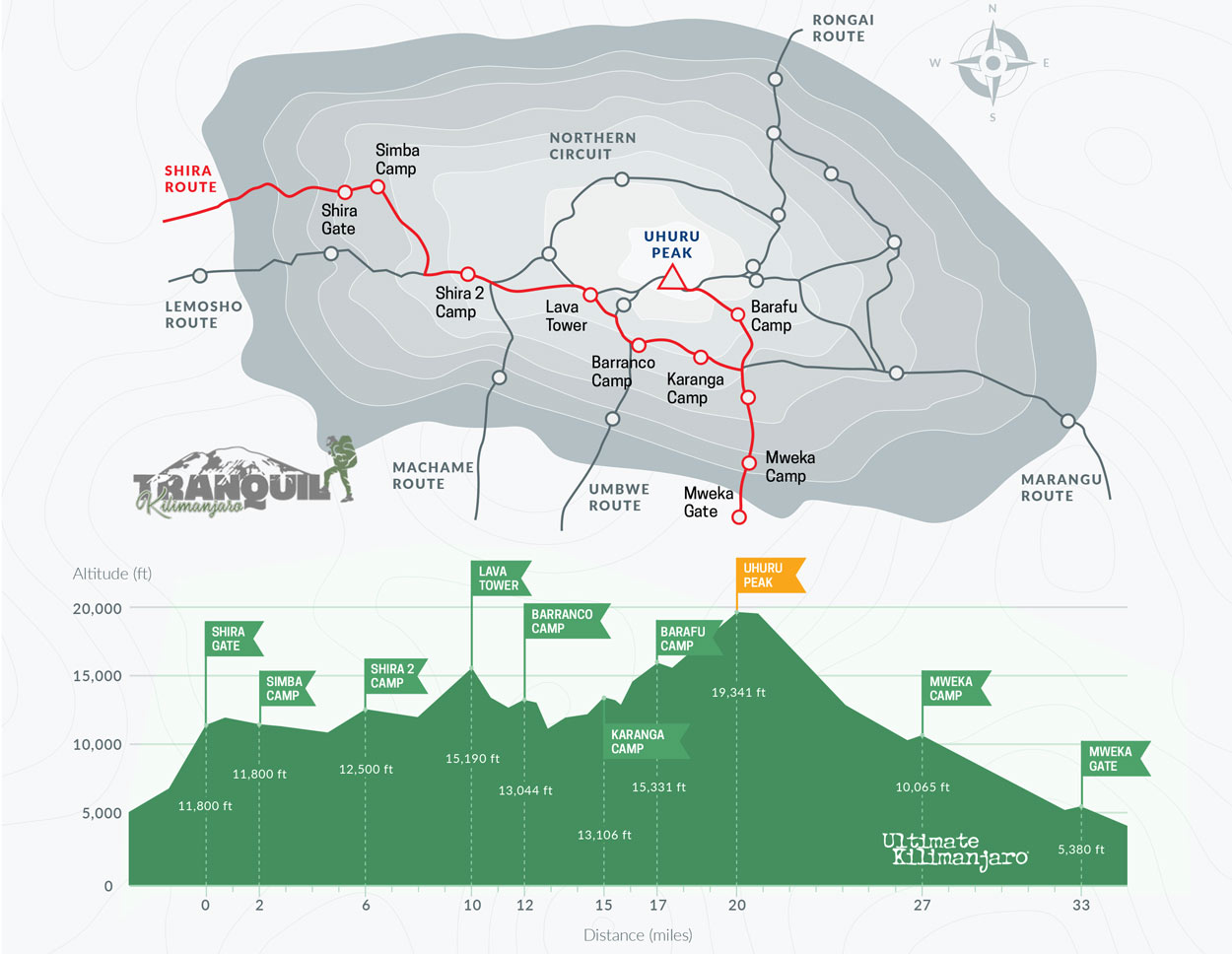 Standing at a staggering 5,985m, Mount Kilimanjaro is the highest free-standing mountain in the world and the highest in Africa. Climbing Mount Kilimanjaro can take more or less a to reach the top( the summit).
How much does it cost?
Prices for the day trip to the incredible Shira Plateau along the Lemosho Route will cost from $160 for a group of 5 people to $270 for a single person.
Prices for the Kilimanjaro Day Hike to Mandara Hut (per person)

1 Person
2 Persons
3 Persons
4 Persons
5 Persons and more
270 USD
190 USD
180 USD
170 USD
160 USD
An English-speaking guide, round-trip transportation from/to Moshi, Kilimanjaro National Park entrance fees, a lunchbox, bottled water, and all program activities are all included in all pricing, which is all expressed in US dollars.
How long will it take?
Trekking from the gate to Shira Plateau and then returning to Lemosho gate will take a total of roughly 5-8 hours. Keep in mind that while we want to get the most out of the mountain, you must be at the gate by six o'clock in the evening.
| | |
| --- | --- |
| Altitude gain: | 2100m to 3500m |
| Distance (one way): | 8 km |
| Hiking time: | 3 – 4 hours up / 2 – 3 hours down (total time 5 – 8 hours) |
| Habitat: | Rainforest |
What to wear for this day hike
Depending on the time of year, each hiker needs a small rucksack/backpack to carry water, warm clothing, and full waterproofs because the weather can change quickly as clouds swoop down from the summit. Each hiker also requires a pair of strong walking boots because the terrain may be soft in some places. The day trip to Mount Kilimanjaro does not require hiking boots. But we suggest putting on closed-toe shoes like trainers.
Short Mount Kilimanjaro Hike
This is a short one-day Mount Kilimanjaro hike to Mount Kilimanjaro's Shira Plateau that can be done from either Moshi or Arusha. We do prefer taking this short day trip from Moshi town, the nearest town to the mountain.
Kilimanjaro Day Hike from Arusha or Moshi
From Arusha to Moshi, Kilimanjaro the distance is about 82 km and it would take roughly 2 hours to drive from Arusha to Moshi. Even though it is very much possible to take this short hike to Kilimanjaro from Arusha, it means that you will have to leave Arusha as early as possible since the day tour begins at 8.00 am. That is why we recommend starting your Kilimanjaro short hike to Shira Plateau from Moshi which is only a few minutes away from Mount Kilimanjaro.
A one-day Mount Kilimanjaro excursion can be done via the western side of Mount Kilimanjaro. This western side received very few visitors and has very little traffic.